In the Stevenson Family memories, provided by Jackie Andrews (nee Smith), transcripts from unknown source newspaper cuttings are provided. However no emotional records of this traumatic event have been found. No explanation can be found as to why uncle Jack was recalled from holiday to captain the Penstone to make the roundtrip Liverpool – Barrow -Penmaenmawr – Preston – Liverpool but this being his planned holiday period does explain why Norman (his eldest son) was on board.
My father hardly talked about it, and so I am grateful for the newspaper cuttings as they now explain some of the pain he must have felt (my middle name is Albert; I'm named after my dad's favorite brother). Some of my earliest memories are of holidays in Pensarn and Penmaenmawr. Only now do I realize why we went there for holidays; I am sure that this was my father's way of saying his farewell to his brothers and nephew. Pensarn is the closest point of land to the wreck and Penmaemawr was the last point of land that the crew stepped on. Those holidays were for him a pilgrimage.
As a result of the disaster my father was quickly discharged from the army and sent home to support his family. Apparantly the Ministry of Defence decided that the Stevenson family had suffered enough malfortune1.
Chris Michael who compiled an overview of Liverpool Bay Wrecks has kindly provided me photos and information regarding the wreck.
The Penstone belonged to a fleet of small coasters owned by the Zillah company managed by W. A. Savage. Their business started by carrying roadstone from the quarries at Penmaenmawr. After the first World War, they traded more generally and moved their headquarters to Liverpool. The Penstone was named after Penmaenmawr stone. She was a small coaster of rather old fashioned design. Her builder's plans are available in the Merseyside Maritime Museum.
On 29 July 1948, she left Coburg dock, Liverpool with a cargo of grain for Barrow. She then sailed light to Penmaenmawr to load 220 tons of granite chippings for Preston. She left Penmaenmawr on the North Wales coast at 8 am on 31 July. There was thick fog with visibility of 40 yards. Just south of the North West Light, she heard the Norwegian MV Villanger approaching. The 4484 ton ship struck her just forward of the bridge, nearly cutting her in two. She sank fast. Only the mate and second engineer survived to be picked up by a boat from the Villanger a half hour later.
She is upright on the sea bed and fairly intact. Her stern is the highest part and lies to the west.
PENSTONE: 267 tons gross, 120 ft long, 22 ft beam, 9 ft draught.
Built: Manchester Drydock Co, Ellesmere Port 1926.
Engines: Steam compound 2 cylinder (one boiler), 52 nhp.
Owners: Zillah Shipping and Carrying Co., registered Liverpool.
Date of wreck: 31 July 1948
Location: 53° 29.86 N 3° 37.48 W
Distance from New Brighton: 21 nautical miles.
Depth at low water: 34m seabed, 35m scour, 25m to top of wreck.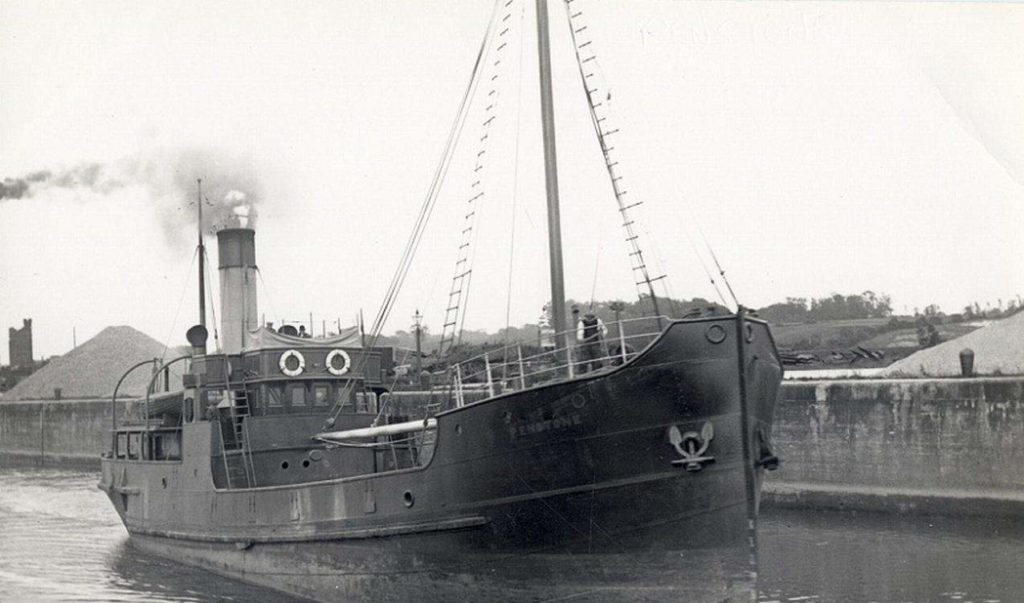 John Stevenson died of natural causes in 1942——-Peter Morris (aunty Lil's husband) was killed in action in 1943——–George Stevenson lost both legs during a tank battle in 1944——-Jack (John Egbert) Stevenson drowned at sea Penstone 1948——–Albert Stevenson drowned at sea Penstone 1948———Norman Stevenson drowned at sea Penstone 1948 [↩]